The mission of Madison Fine Arts Chinese School (MFACS) is to promote Chinese culture and broaden the appreciation of arts. Since 2002, MFACS has been offering classes for Chinese language for different grade levels starting from Kindergarten to AP, with a recent addition of a special Chinese class for students and parents from non-Chinese-speaking background.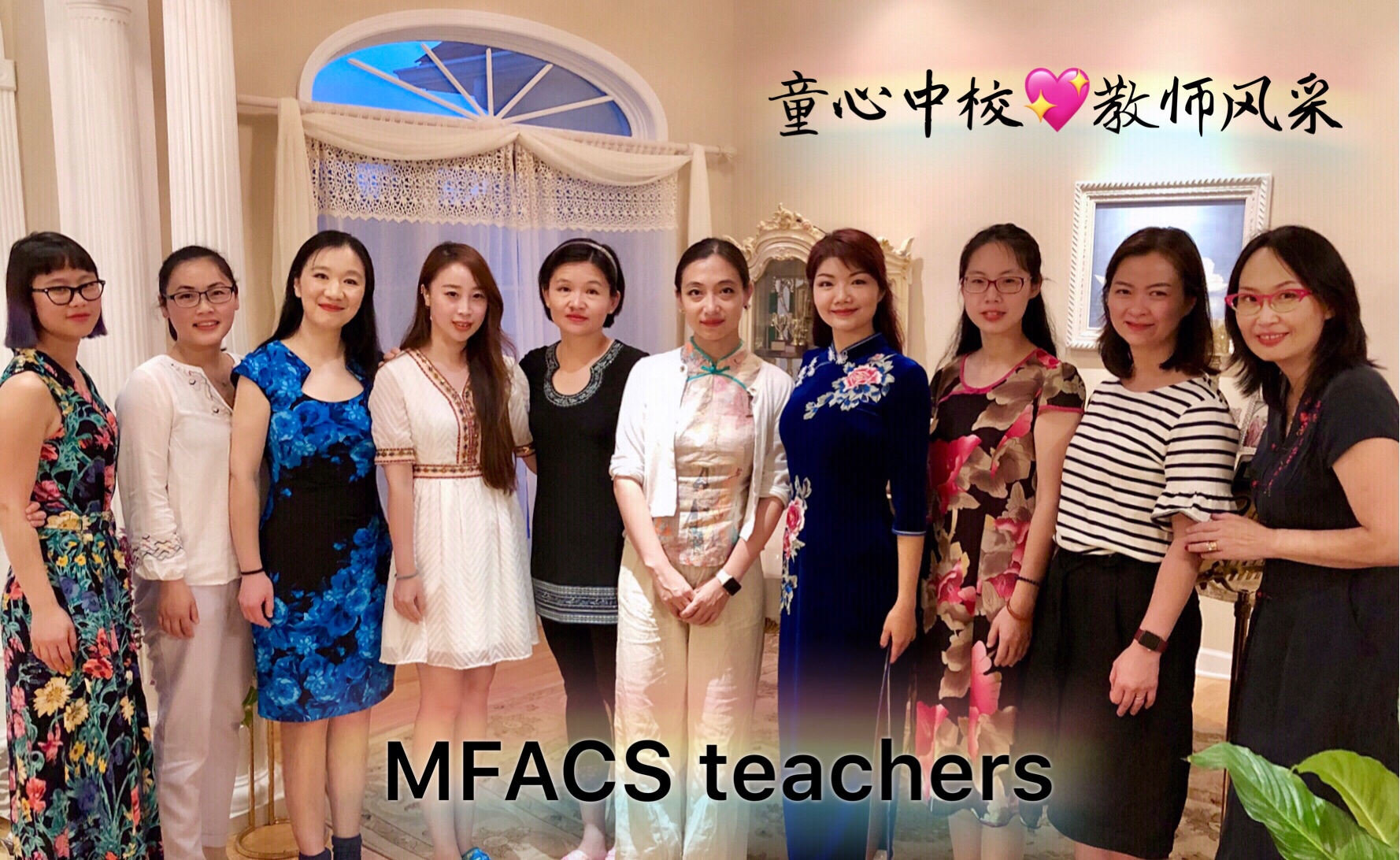 MFACS also offers special-interest classes such as chess, English reading and writing, dance, drawing, Olympic Math, plus "Little Stars" class (free) for performing arts, adult fitness and beauty classes. MFACS works hard to cater to the needs and requests from students and parents to not only provide high quality curriculums for learning Chinese language and culture, but also classes for other areas of special interests. MFACS is committed to provide a learning environment that let students strive and have fun.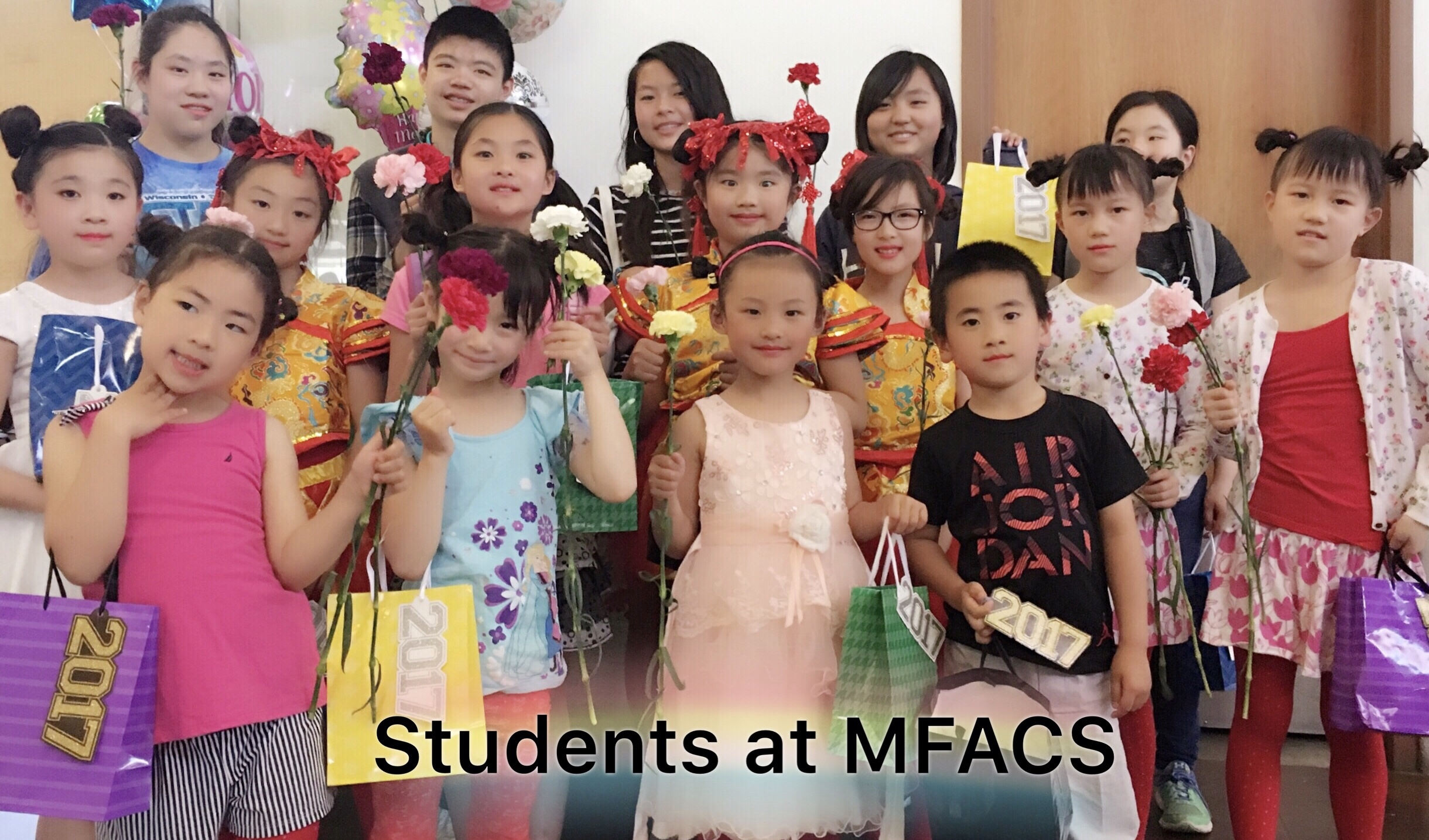 美国麦城童心艺术中文学校是一所具有中国文化艺术特色的专业中文学校,以"弘扬中华文化,开拓艺术天地"为办学宗旨。自2002年开办以来,我们中校一直为不同年龄及程度的学生提供规范的中文课程,不仅安排了从学前班至AP考试班共十多个常规中文班,还为非中文家庭开设了特别中文班。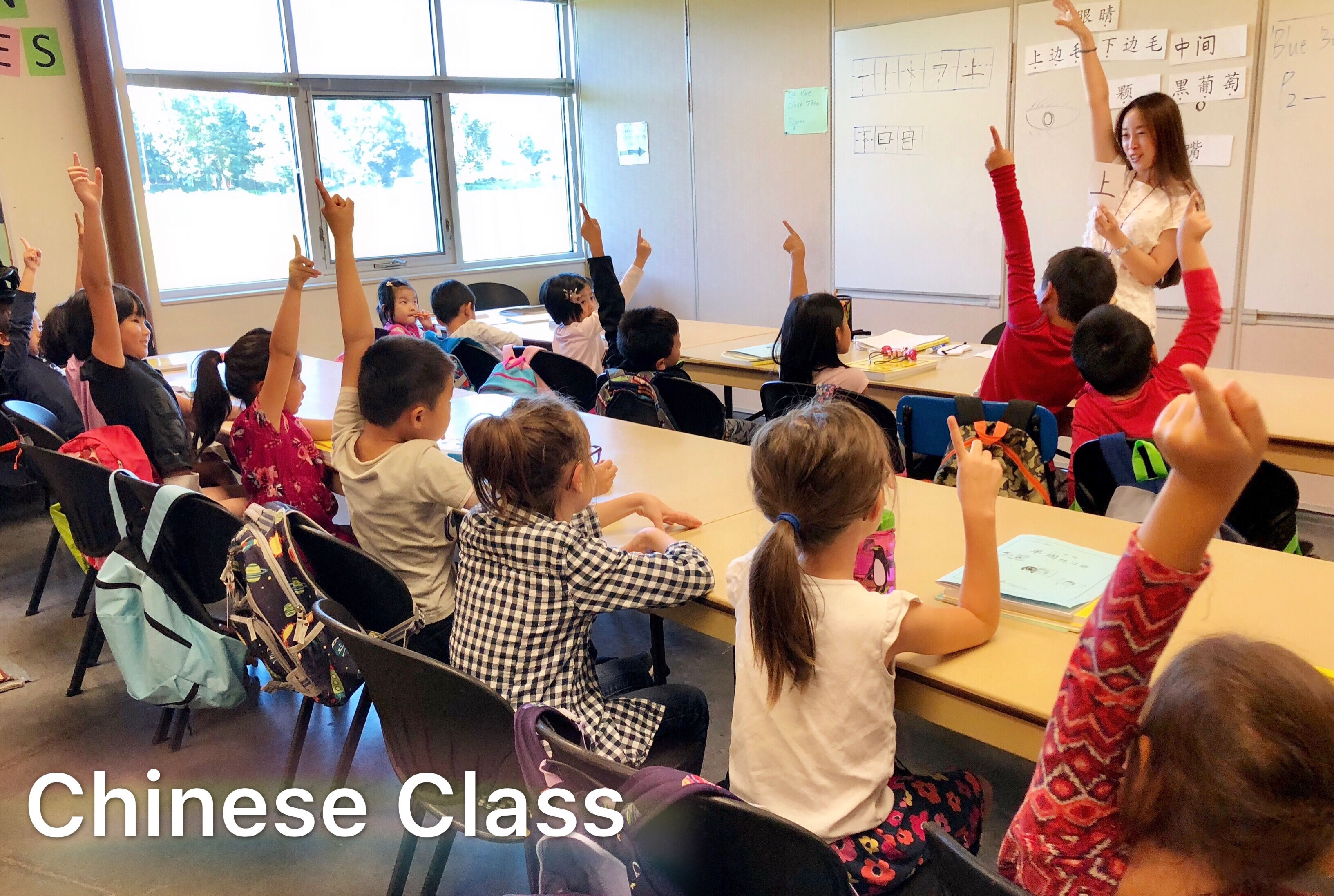 我们中校还有国际象棋、英文写作、舞蹈、美术、奥数等兴趣班,及为培养学生表演能力开设的明星班(免费),还有特别为家长开设的辣妈健身班和辣妈美容班…如何合理规划并完善学生和家长的需求,为华裔子女及热爱中国文化的美国学习者提供高质量的中文教学及其它相关的课程教学,让学生们学有所成,乐在其中……一直是我们童心中校多年来坚持不懈努力和奋斗的目标!
如果您想了解我校更多的课程内容,请点击查看 课程介绍:Click here for more information about courses offered by MFACS.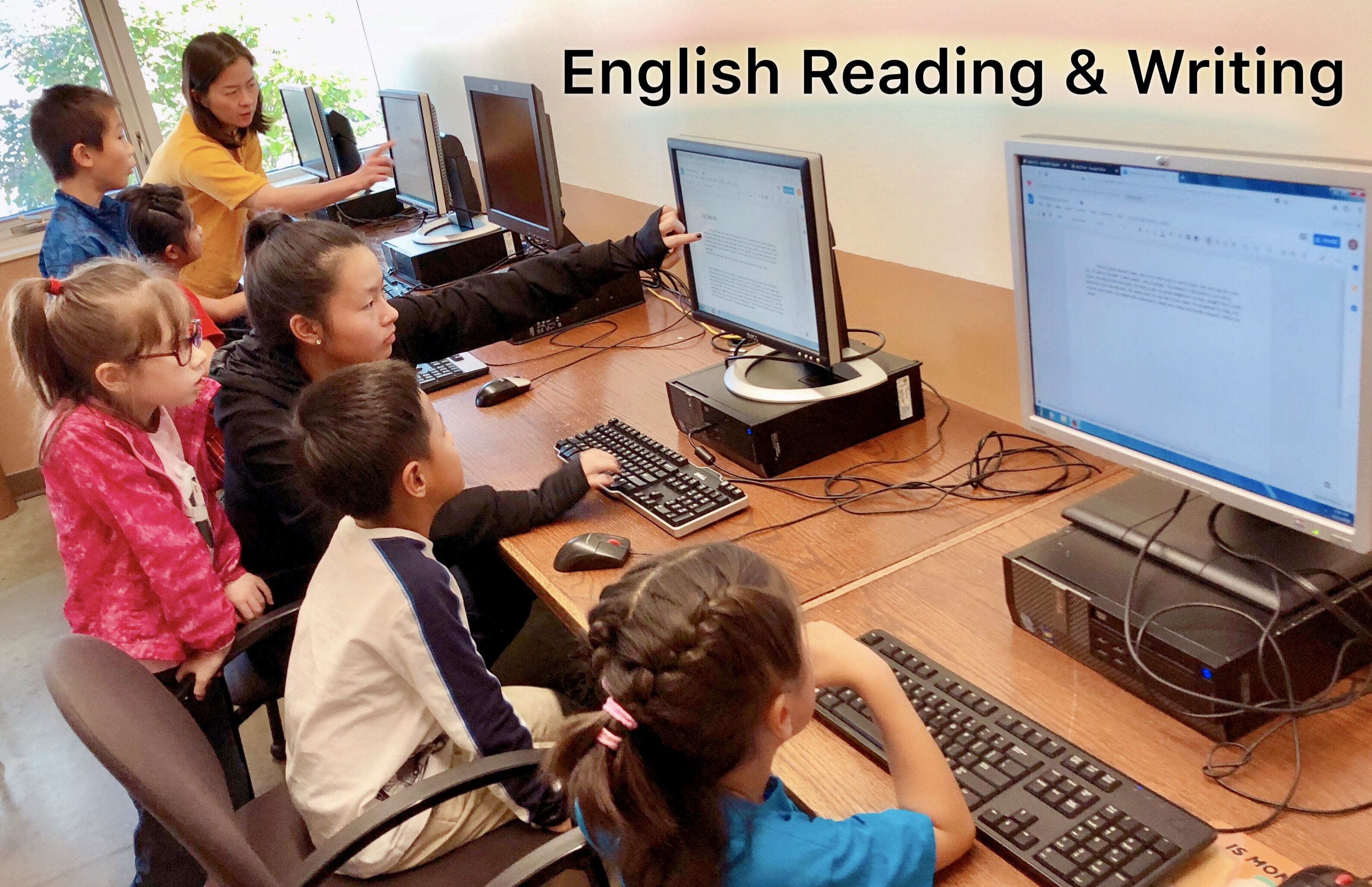 The teachers at MFACS provide rigorous and interactive instructions to help the students achieve excellent results. Over the years, students from MFACS have participated and won awards in "Essay Competition for Overseas Chinese Youth," "Chinese Calligraphy Competition." Students from art classes have won gold, silver, and bronze awards in "International Children Painting and Calligraphy Competition," "Worldwide Chinese Children Painting and Calligraphy Competition."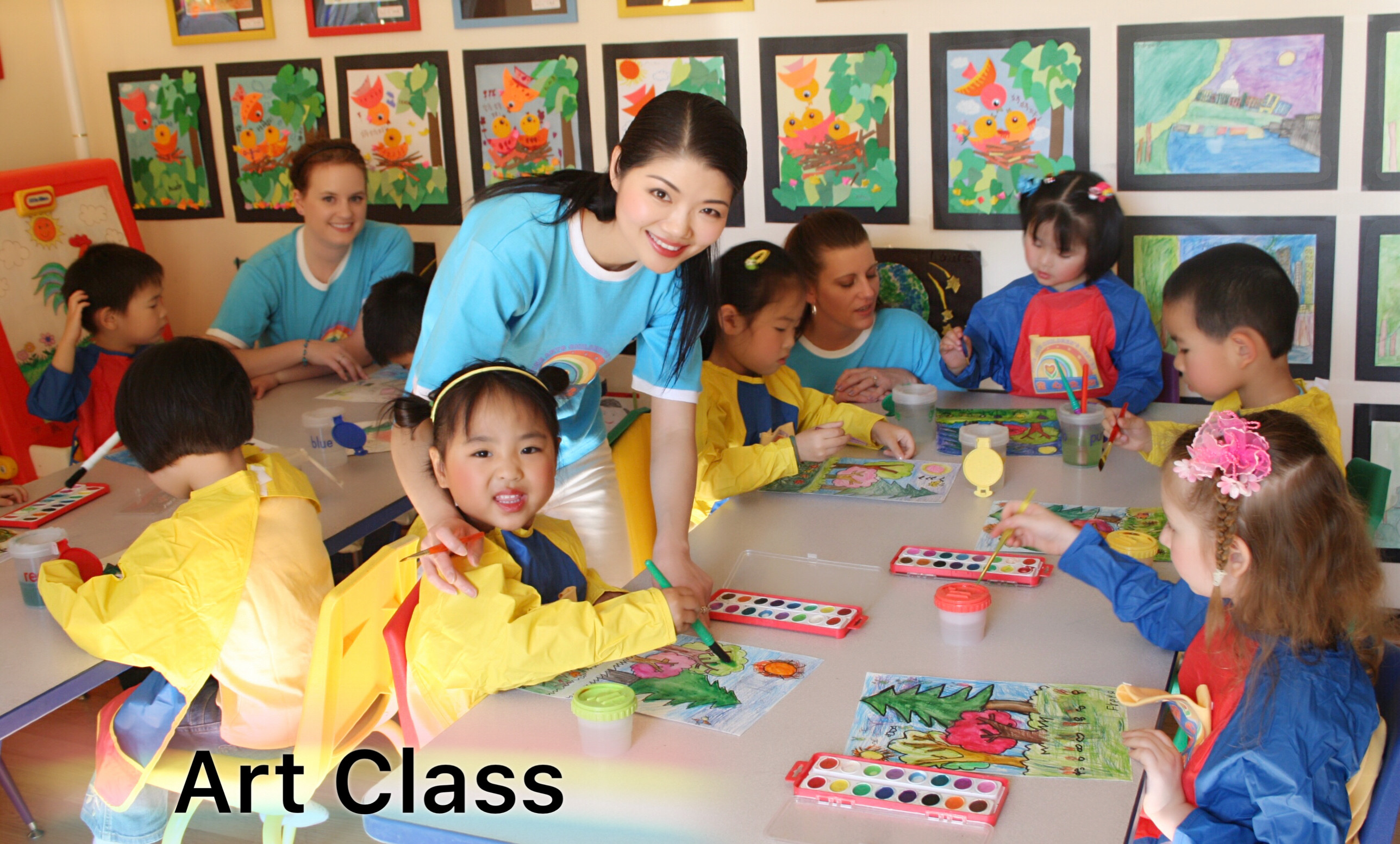 Students from chess class often participate and obtain victories in various chess tournaments at state level, Midwest region level, and national level. Students from "Little Stars" performing arts class have performed in many galas and international events throughout the years and continue to be one of audience's favorites. All of these activities continue to increase the students' confidence and interest levels, which contributes to the positive feedback for MFACS.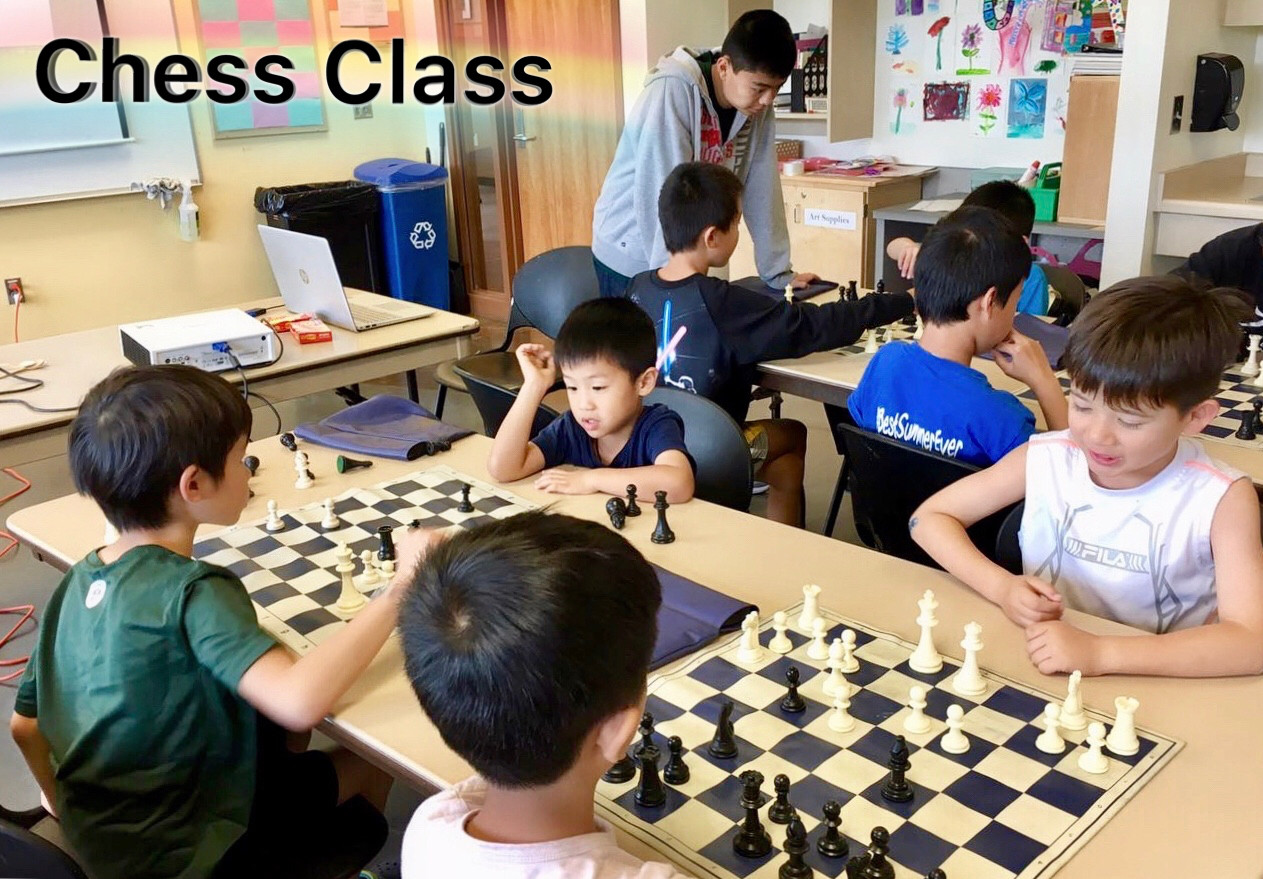 办学多年来,在童心中校老师们严谨又活泼的专业教学下,学生们取得了非常显著的成绩:我校中文班学生参加了"海外华裔青少年作文比赛"及"汉字书法大赛"多次获奖;美术班学生在"世界华人少年儿童书画大赛"、"中华海内外少年儿童书画大赛"等比赛中荣获多项大奖......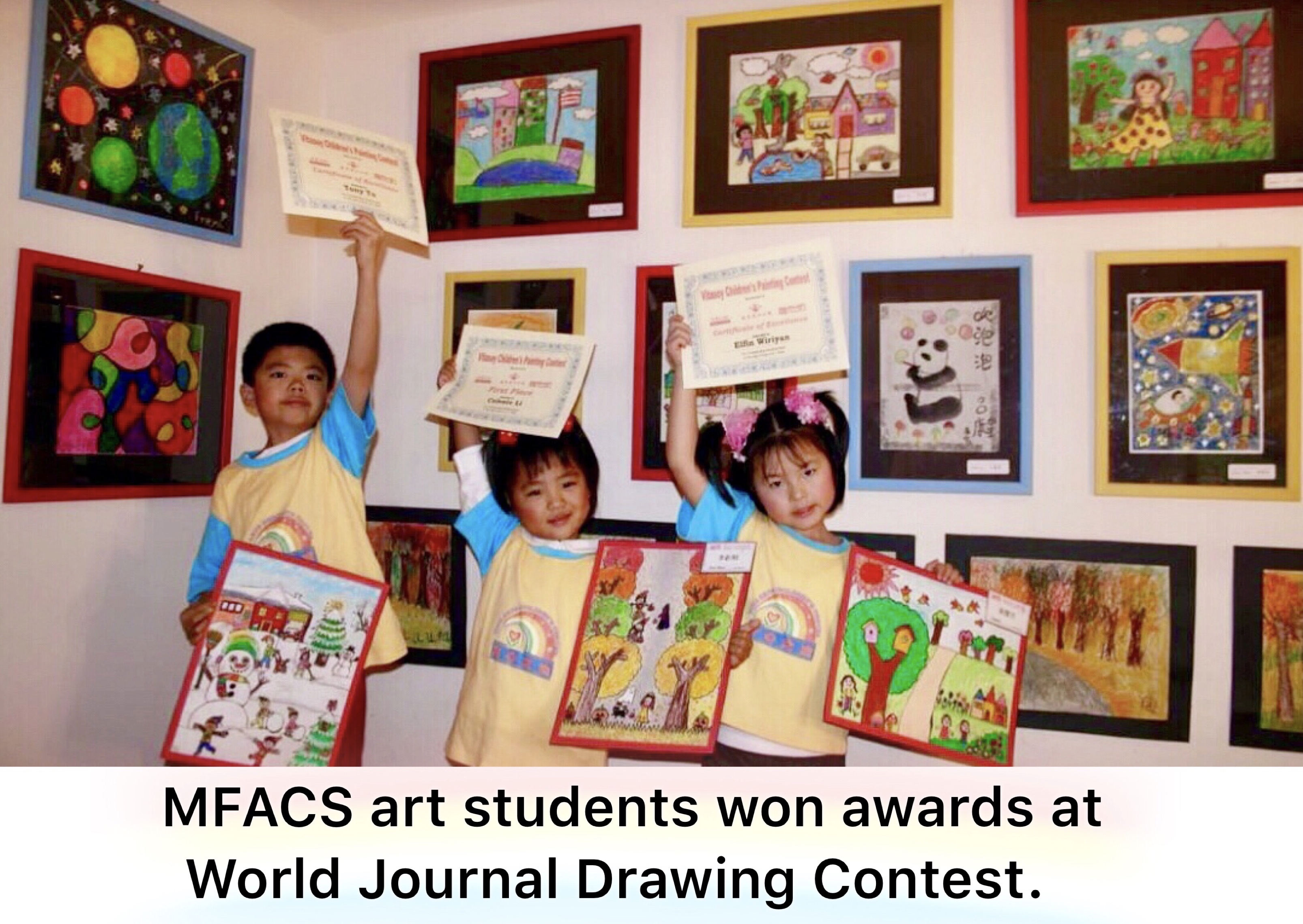 国际象棋班的学生们经常参加全美、美中部及威州的各类国际象棋大赛,都获得了辉煌的战果;明星班和舞蹈班的孩子们连续多年参加各类联欢会、国际文化艺术节的演出,都是观众最喜爱的节目……这些活动极大的提高了学生们的学习兴趣和自信,令我校深获好评。
如果您想看到我校学生的成果展示,请点击查看 学生作品:Click here for student work.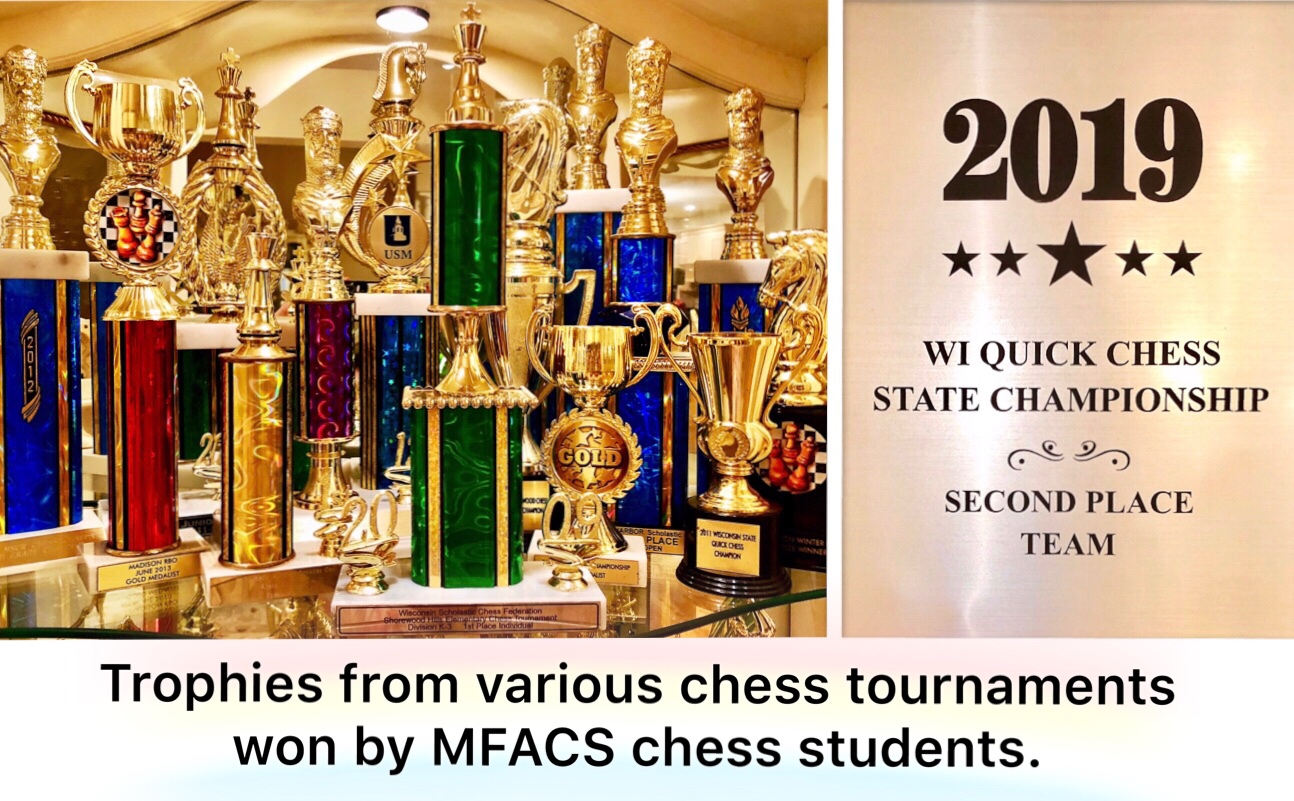 MFACS is administered by professional board members who work with a team of outstanding, passionate, and dedicated teachers. Under the leadership of the Principal, Ping Huang, MFACS practices "students-centered" teaching method which is guided by the teachers. Without compromising quality of instructions, we encourage students and teachers to explore the most appropriate and effective learning methods. MFACS also partners with different Chinese schools in different countries to continuously innovate and improve.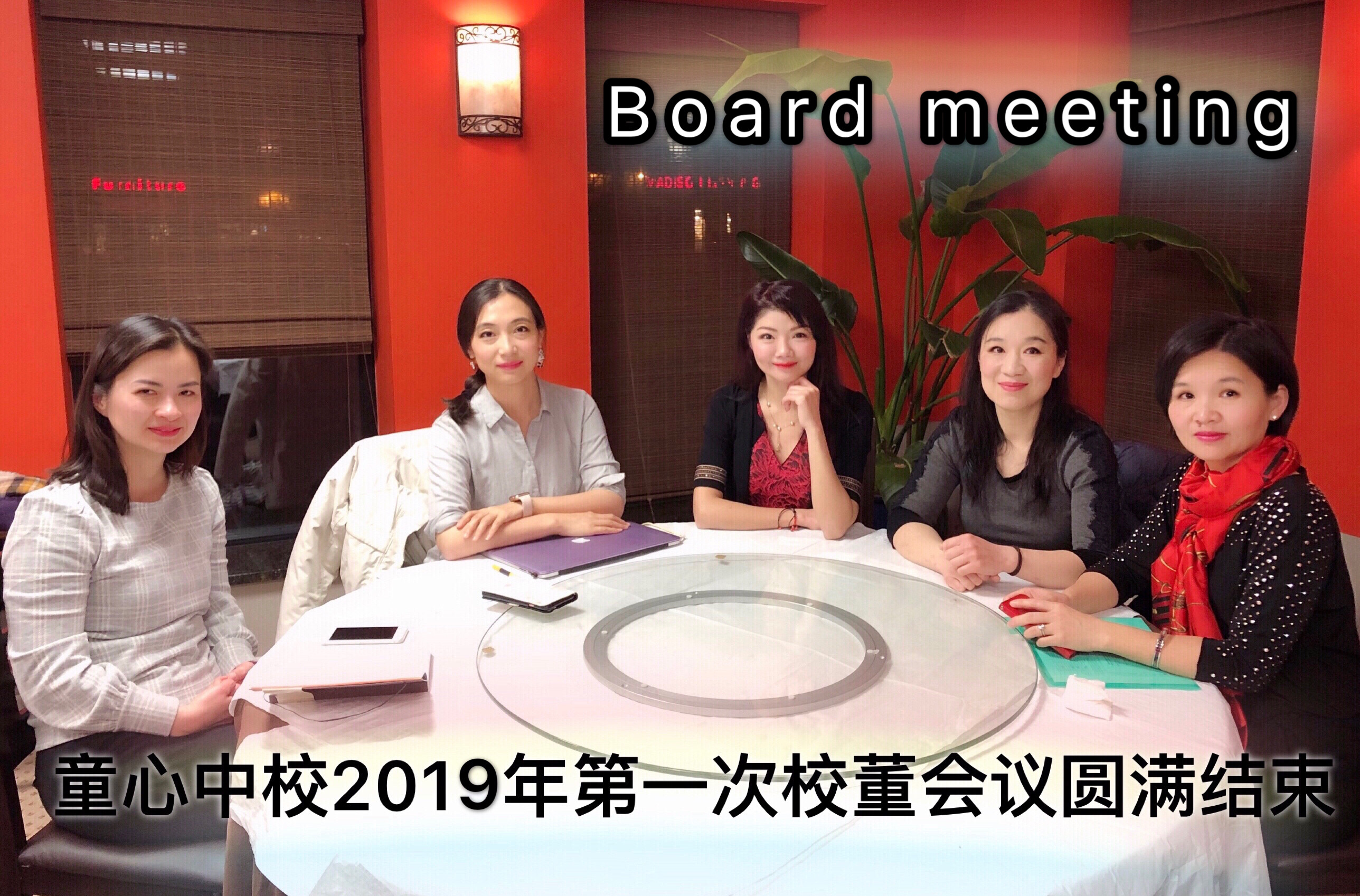 童心中校有专业规范全方面管理学校的校董会,有敬业热爱教育工作的优秀教师队伍;在黄萍校长的领导下,我们中校的教学方法与时俱进,以学生为中心、以教师为主导。在保证教学质量的前提下,我们鼓励学生和教师大胆探索适应自身特点的学习方式。在校外,童心中校也会不断与华裔和世界各国的中校接轨,推陈出新,不断进步。
如果您想了解我们的师资队伍,请点击查看 教师风采:Click here for the teacher team.
MFACS is insured and registered in the State of Wisconsin.
MFACS is also registered at the Chinese Consulate in
Chicago, has participated in the Chinese Teacher Exam
administered by the Overseas Chinese Affairs Office of the
State Council (OCAO). MFACS is a founding member of the
Global Chinese School Alliance (GCSA), also is a member of the Chinese School Association in the United States
(CSAUS). MFACS continues to improve in all aspects of
school administration and operations.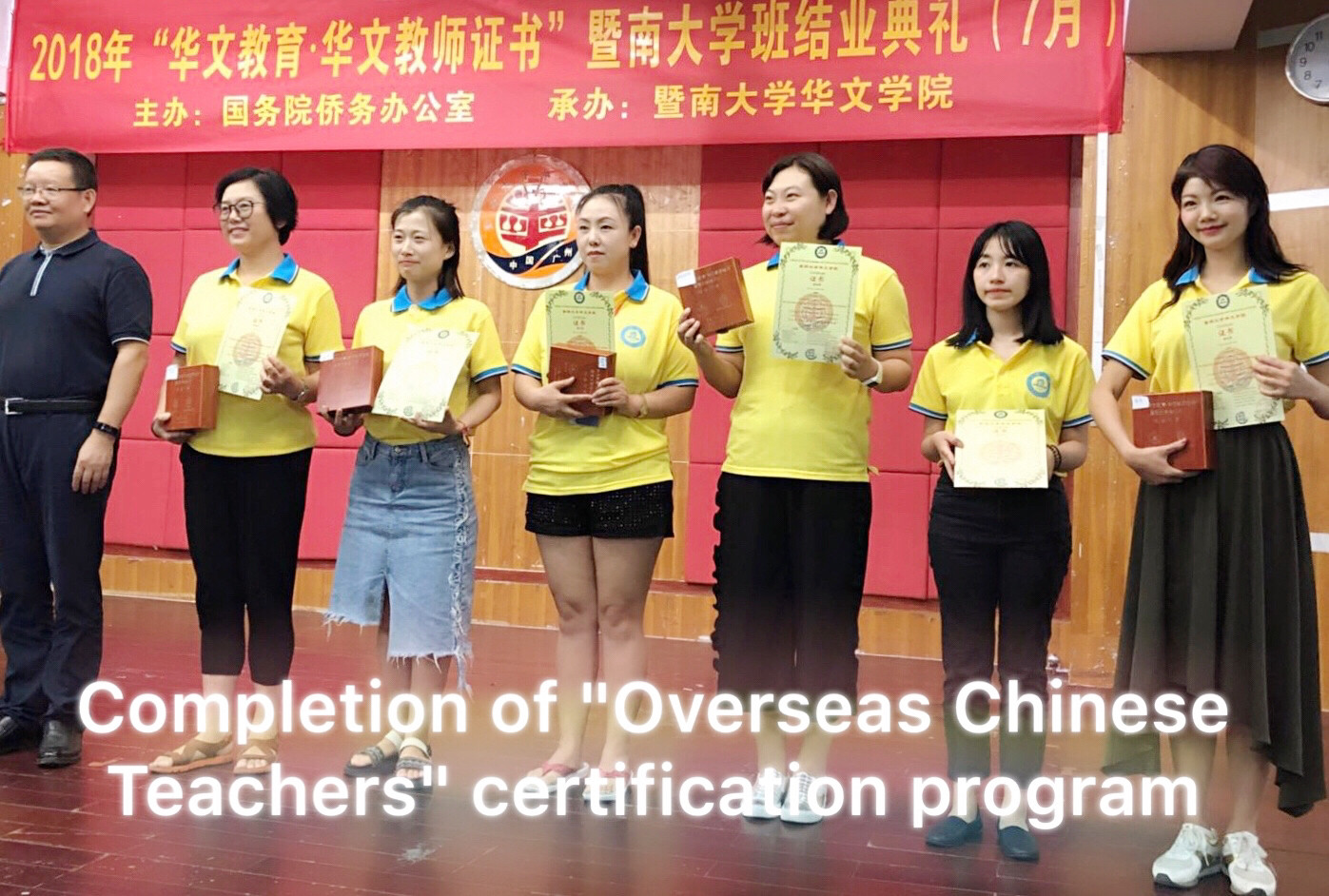 MFACS also participates in charity work by providing long-term sponsorship for students with financial difficulties in rural China and supporting an educational community center in Madison. As a prominent Chinese school in Madison, MFACS works hard on improving Chinese language capability of our students, cultivating bilingual ability, establishing a supportive learning environment, participating and maintaining relationships with the Chinese community.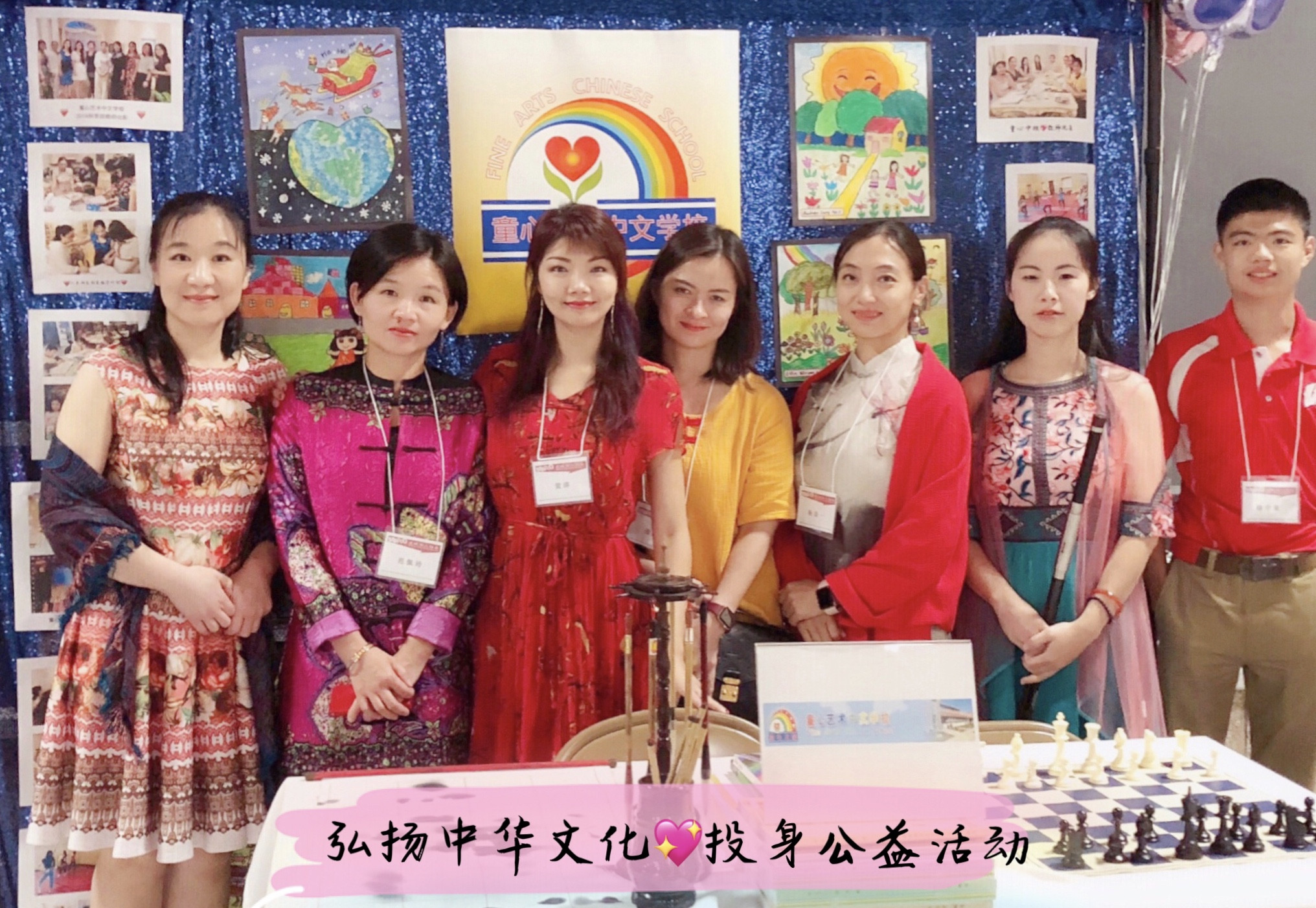 我们的中文学校有在威州政府合法注册,并办理了责任保险。近年来,我们还在芝加哥总领馆中校部登记,参加了国侨办(OCAO)华文教师证书班培训考核,并成为全球华校联盟(GCSA)创始成员和全美中文学校协会(CSAUS)的会员学校。我们中校力求在办学的各方面都能做到更加的规范和完善。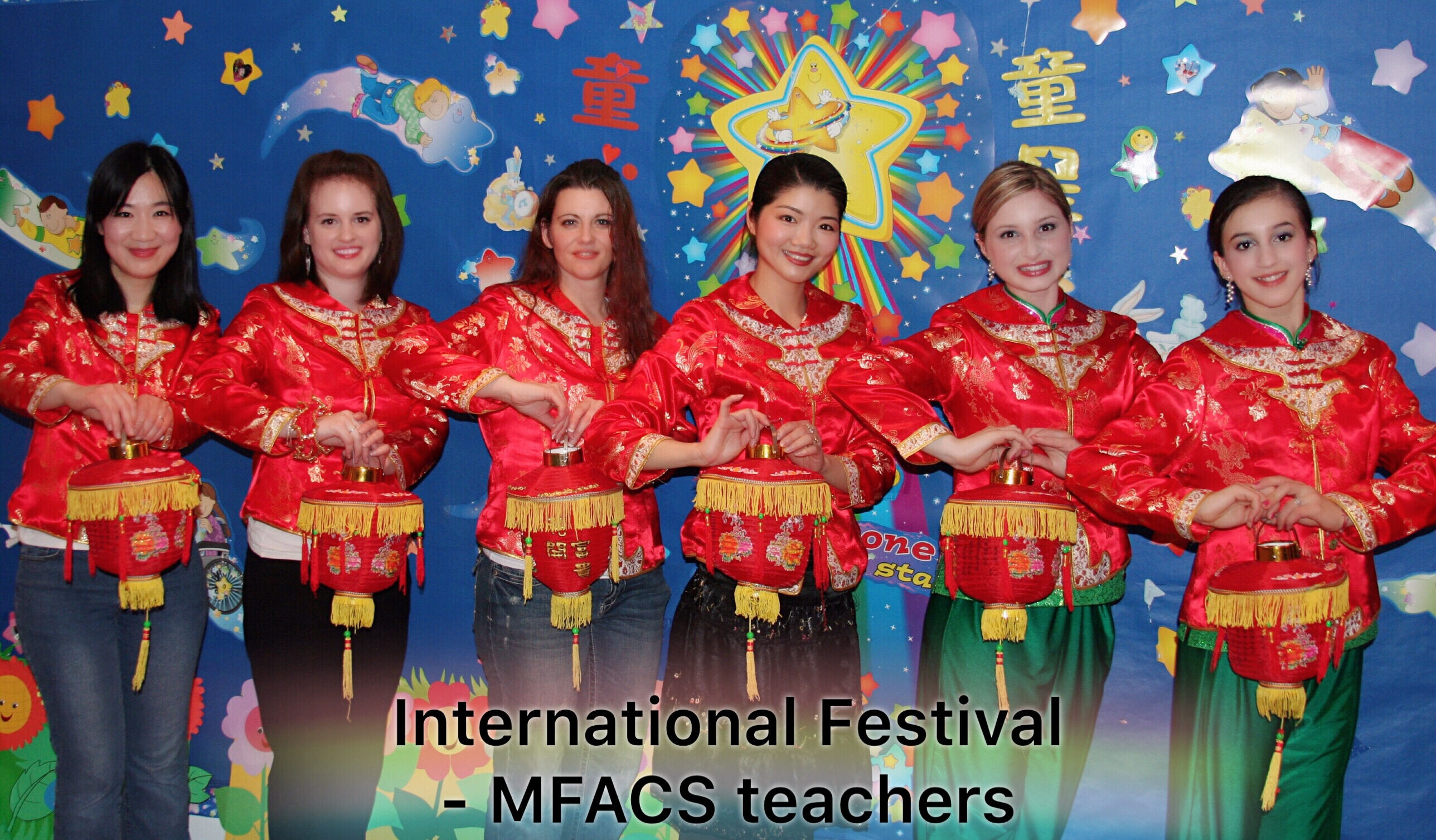 同时,我校关注慈善事业,长期资助国内贫困学生及麦迪逊当地的儿童教育活动中心。作为对麦城有一定影响力的中文学校,我们不仅致力于提高学习者的语言能力、培养双语思维,提供良好的学习氛围,还会为华裔群体的交流互动和长远发展而不懈努力。
如果您想看到我们中校的更多精彩资讯,请点击查看 童心影集:Click here for photo gallery.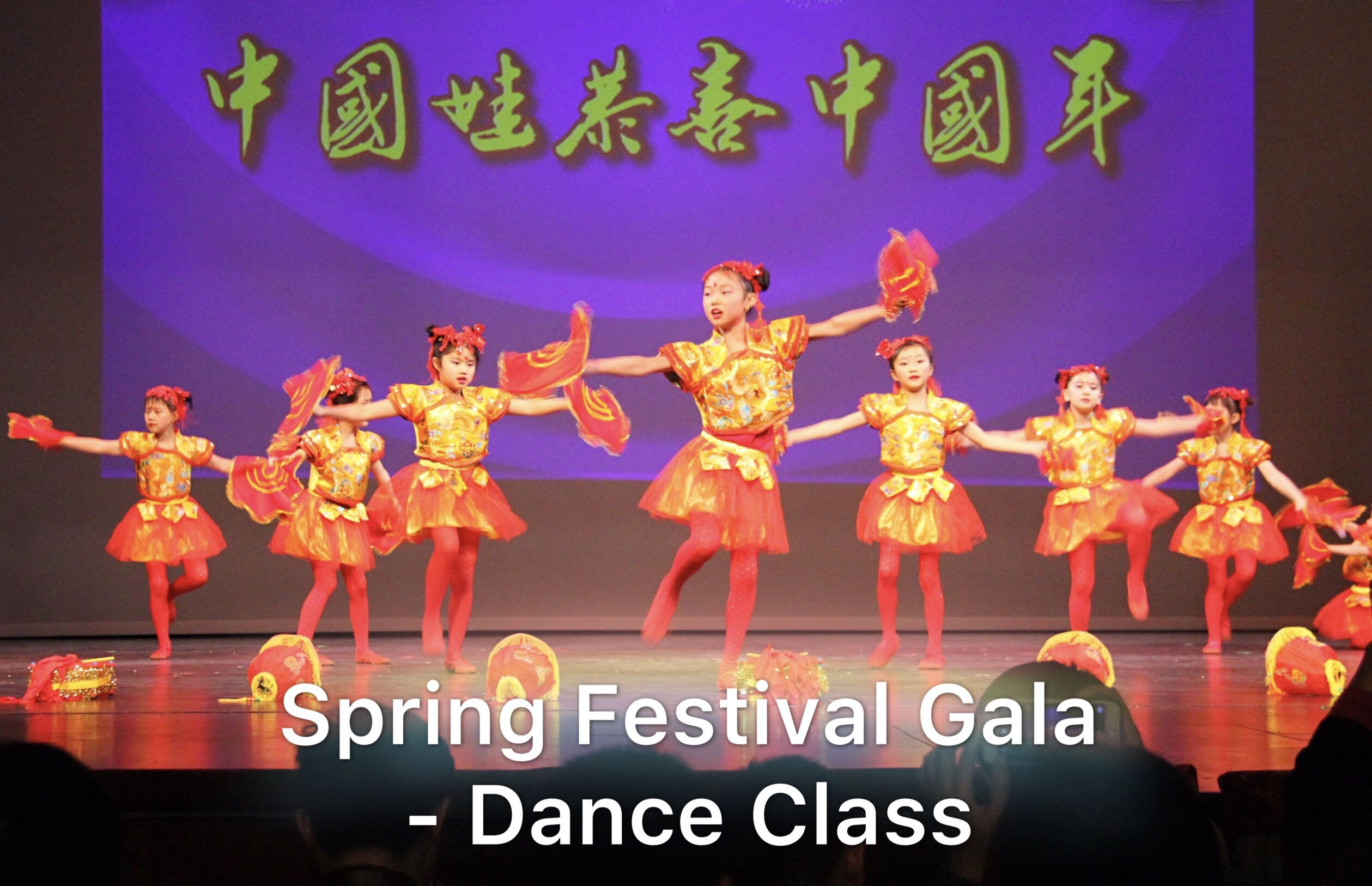 MFACS is conveniently located at Lighthouse Christian School Center in the west side of Madison, close to shopping centers with sufficient parking spots. The facility is clean and provides a fun and supportive learning environment with multiple classrooms, a common area and an outdoor playground for students to use during break time.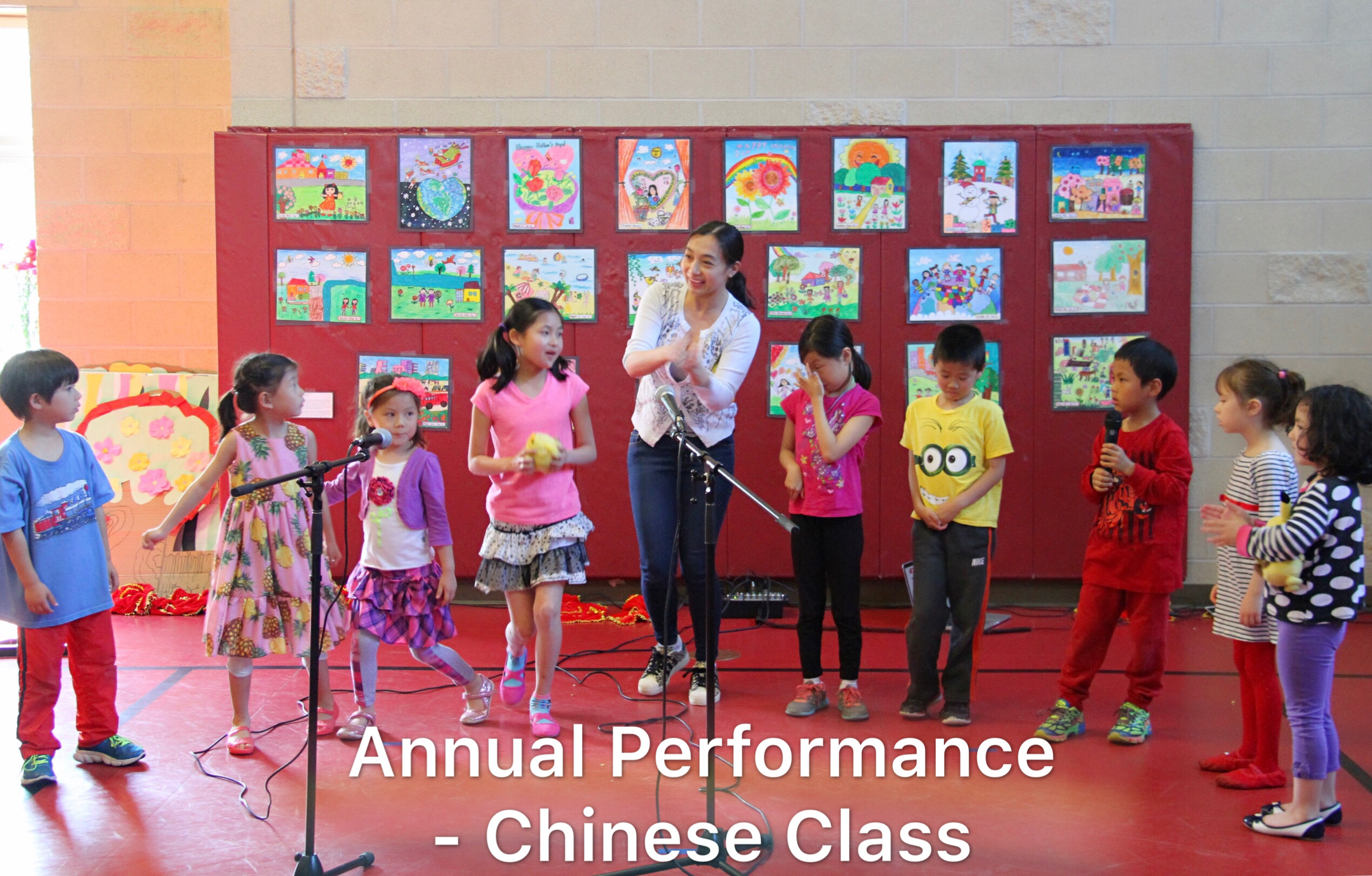 我们中校位于威州麦迪逊市西边的 Lighthouse Christian School,交通及购物十分便利。学校门前有充足车位。室内教学环境好,教学设备齐全, 并有专业的清洁工做卫生工作。室外备有大型玩具供孩子们课外活动,保证让学生们学得开心,玩得开心!
如果您想知道我们中文学校的详细地址,请点击查看 学校地址:Click here for the school address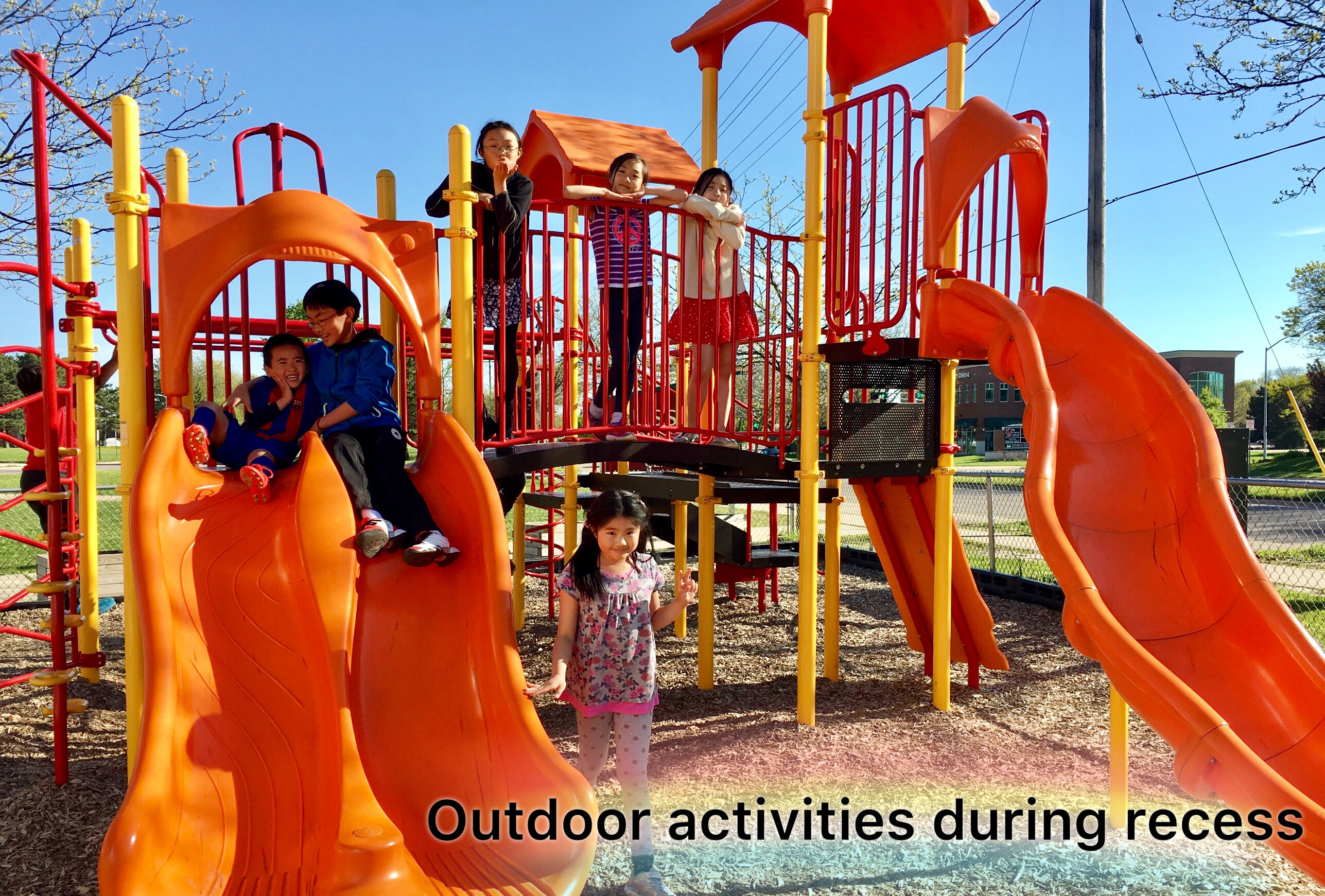 MFACS offers classes in the Fall and Spring semesters in accordance to public school schedule. Classes meet on Sundays, 1:15 to 5:15 PM. MFACS may offer summer classes. Interested parents may check our website for the latest announcements. Any questions or Inquiries can be made via email or phone. For the latest information, please check: What's new at Fine Arts Chinese School.

童心艺术中文学校每年的春季和秋季学期固定与美国公立学校同期开学在周未开班,上课时间均为星期日下午1:15至5:15。也会不定期的开办暑期班,并会提前发出招生通知。请感兴趣的家长注意查看网站消息并欢迎大家来信来电咨询!
如果您想知道我校的最新消息,请点击查看 学校公告:Click here for the most recent news.
如您有任何问题请联系我们的校董会成员:
If you have any questions, please contact the school board members:
Position 职务

Name 姓名

Email 电邮

Principal 校长

Ping Huang 黄萍

Vice Principal 副校长

Selena Shang 尚清华

Administrative Director 校务长

Nuoyi Yang 杨诺一

Treasurer 财务

Peiling Fan 范佩玲

Assistant 助理

Wei

Guo

郭蔚

weiguo.um@gmail.com

Web Master 网管

Tony Tu 涂宇童